Ariana Grande to receive honorary citizenship of Manchester
Pop singer Ariana Grande is in line to get the honorary citizenship of Manchester after her benefit concert.
The Manchester City Council want to hand the 23-year-old singer the honour after she arranged One Love Manchester benefit concert to raise money for the victims of the terror attack in May.
मैनचेस्टर की मानद नागरिकता से सम्मानित होंगी एरियाना ग्रैंडे
अमेरिकी पॉप गायिका एरियाना ग्रैंडे मैनचेस्टर में अपने कंसर्ट में शामिल लोगों पर हुए आतंकी हमले के पीड़ितों की सहायता के लिए कार्यक्रम आयोजित करने पर मैनचेस्टर की मानद नागरिकता से सम्मानित की जाएंगी।
मैनचेस्टर सिटी काउंसिल 23 वर्षीय गायिका को पीड़ितों के सहायतार्थ धन एकत्र करने में मदद देने के लिए इस सम्मान से सम्मानित करना चाहती है।
You May Also Like:
Iran qualify for 2018 World Cup finals
Centre approves interest subsidy of 2 per cent on farm loans, additional 3 per cent for timely repayments
The Government has approved two percent interest subsidy on farm loans and additional three percent for timely repayments. The approval was given for short term crop loans to farmers for the current year.
A decision in this regard was taken during a Cabinet meeting in New Delhi. The scheme will apply to short term crop loans upto 3 lakh rupees and the rate will be 4 percent. The decision involves a total expenditure of 20,339 crore rupees in the current financial year.
केन्‍द्रीय मंत्रिमंडल का कृषि ऋण पर 2 प्रतिशत ब्‍याज सब्‍सिडी और समय पर ऋण अदायगी करने पर 3 प्रतिशत अतिरिक्‍त छूट देने का फैसला
सरकार ने कृषि ऋणों पर दो प्रतिशत ब्‍याज सबसिडी को मंजूरी दे दी है, ऋण की समय पर अदायगी करने पर 3 प्रतिशत और छूट दी जायेगी। यह मंजूरी मौजूदा वर्ष के लिए किसानों को अल्‍पावधि फसल ऋणों के लिए दी जा रही है।
नई दिल्‍ली में केन्‍द्रीय मंत्रिमंडल की बैठक में यह फैसला किया गया। यह योजना तीन लाख रूपये तक के अल्‍पकालीन फसल ऋण पर लागू होगी और इसकी दर 4 प्रतिशत होगी। इस फैसले के लागू करने पर मौजूदा वित्‍त वर्ष में 20 हजार 339 करोड़ रूपये का खर्चा आयेगा।
India appoints envoys to Italy, Denmark, Belgium and EU
The government appointed ambassadors to three European countries, Italy, Denmark and Belgium. Gaitri Issar Kumar, a 1986-batch Indian Foreign Service (IFS) officer, has been appointed as India's next ambassador to Belgium.
While Reenat Sandhu, a 1989-batch IFS officer, will head India's diplomatic mission in Italy, Ajit Vinayak Gupte from the 1991 batch, who is presently joint secretary in the ministry, has been appointed as ambassador to Denmark.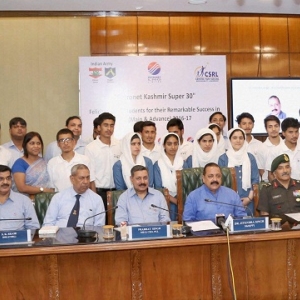 भारत ने इटली, डेनमार्क, बेल्जियम एवं ईयू में राजदूत नियुक्त किये
सरकार ने तीन यूरोपीय देशों इटली, डेनमार्क एवं बेल्जियम के लिए राजदूत नियुक्त किये। गायत्री इस्सर कुमार को बेल्जियम में भारत का राजदूत नियुक्त किया गया है जो भारतीय विदेश सेवा की 1986 बैच की अधिकारी हैं।
भारतीय विदेश सेवा की 1989 बैच की अधिकारी रीनत संधू इटली में भारतीय राजनयिक मिशन का नेतृत्व करेंगी। वर्तमान में विदेश मंत्रालय में संयुक्त सचिव और 1991 बैच के आईएफएस अधिकारी विनयाक गुप्ते को डेनमार्क में भारतीय राजदूत नियुक्त किया गया है।
You May Also Like:
Four-time DMK MLA Perur Natarajan passes away
WPI inflation in May cools to 5-month low of 2.17%
Inflation based on the wholesale price index fell to a five-month low of 2.17 per cent in May, mainly because of a sharp drop in prices of vegetables.
In December, the reading was 2.10 per cent. WPI inflation was 3.85 per cent in April and (-)0.9 per cent in May 2016.
थोक मुद्रास्फीति मई में घटकर पांच माह के निम्नस्तर 2.17 प्रतिशत पर पहुंची
थोक मूल्य सूचकांक पर आधारित मुद्रास्फीति मई में घटकर पिछले पांच माह के निचले स्तर 2.17 प्रतिशत पर आ गई। मुख्यतौर पर सब्जियों के दाम घटने से मुद्रास्फीति में यह गिरावट आई है।
इससे पहले दिसंबर में थोक मुद्रास्फीति 2.10 प्रतिशत रही थी। एक माह पहले अप्रैल में यह 3.85 प्रतिशत पर और मई 2016 में यह शून्य से नीचे 0.9 प्रतिशत पर रही थी।