SRK, Salman, Akshay part of Forbes highest-earning
Indian superstars Shahrukh Khan, Salman Khan and Akshay Kumar are among Forbes annual list of the highest-earning entertainers in the world. SRK, 51, ranks 65th on the list, with earnings of USD 38 million, tied with singer and actress Jennifer Lopez.
The Forbes list of the Worlds Highest-Paid Celebrities of 2017 has been topped by American rapper and entrepreneur Sean Combs, known by his more famous stage name Diddy, with earnings of 130 million dollars.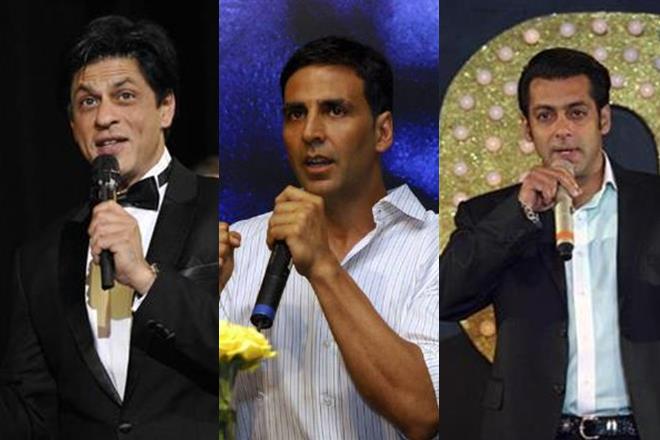 शाहरूख, सलमान, अक्षय फोर्ब्स की सबसे ज्यादा कमाई करने वाले सेलीब्रिटियों की सूची में शामिल
भारतीय सुपरस्टार शाहरूख खान, सलमान खान और अक्षय कुमार प्रतिष्ठित पत्रिका फोर्ब्स की वार्षिक सूची में दुनिया में सबसे ज्यादा कमाई करने वाली मनोरंजन जगत की हस्तियों में शुमार हैं। 51 वर्षीय शाहरूख 3 करोड़ 80 लाख डॉलर की कमाई के साथ गायिका और अभिनेत्री जेनिफर लोपेज के साथ संयुक्त रूप से सूची में 65वें नंबर पर है।
फोर्ब्स की 2017 में दुनिया में सबसे ज्यादा कमाई करने वाले सेलीब्रिटियों की सूची में अमेरिकी रैपर और उद्योगपति सीन कॉम्ब्स शीर्ष पर है। स्टेज पर अपने डिडीे नाम से अधिक मशहूर कॉम्ब्स 13 करोड़ डॉलर की कमाई के साथ पहले पायदान पर है।