Odisha nurse gets Florence Nightingale award
Krishna Kumari, a health worker in Ganjam district, has bagged the prestigious Florence Nightingale award 2017.
The fifty-year-old woman received the award from President Pranab Mukherjee at a function at the Rastrapati Bhawan in New Delhi on the occasion of International Nurses Day.
The award carries a citation, a medal and a cheque of Rs 50,000.
ओडिशा के नर्स को मिला फ्लोरेंस नाइटिंगल पुरस्कार
गंजाम जिले की एक स्वास्थ्य कार्यकर्ता को प्रतिष्ठित 2017 का फ्लारेंस नाइटिंगल पुरस्कार प्रदान किया गया है।
अंतरराष्ट्रीय नर्स दिवस के अवसर पर नयी दिल्ली के राष्ट्रपति भवन में आयोजित एक कार्यक्रम में राष्ट्रपति प्रणब मुखर्जी ने 50 वर्षीय महिला को पुरस्कार प्रदान किया।
पुरस्कार में एक प्रशस्ति पत्र, एक मेडल और 50,000 रूपये का एक चेक प्रदान किया गया।
You May Also Like:
Nepal joins Chinas OBOR initiative
Quinton de Kock scoops top honours at CSA awards
Quinton De Kock was named South African Cricketer of the Year at a gala event hosted by Cricket South Africa (CSA).
De Kock also won four other awards, including Test Cricketer of the Year and ODI Cricketer of the Year, at the event.
He was also named Player of the Year by both his peers and fans in a public vote.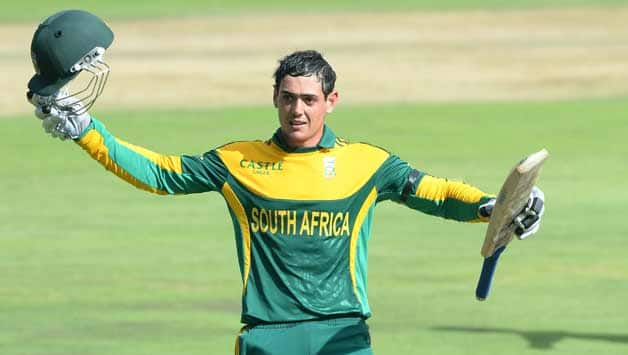 क्विंटन डि कॉक बने सीएसए के सर्वश्रेष्ठ क्रिकेटर
क्विंटन डि कॉक को क्रिकेट दक्षिण अफ्रीका :सीएसए: के पुरस्कार समारोह में देश का सर्वश्रेष्ठ क्रिकेटर चुना गया।
डि कॉक ने इस समारोह में चार अन्य पुरस्कार भी अपने नाम किये जिसमें दक्षिण अफ्रीका के वर्ष के सर्वश्रेष्ठ टेस्ट क्रिकेटर और वर्ष के सर्वश्रेष्ठ वनडे क्रिकेटर का पुरस्कार भी शामिल है।
इसके अलावा उन्हें लोगों और साथी क्रिकेटरों के वोट में भी वर्ष का सर्वश्रेष्ठ खिलाड़ी चुना गया।
You May Also Like:
Modi inaugurates super-specialty hospital in Tamil-dominated Dickoya town
First Sikh-American officer joins Indianapolis police dept
A 26-year-old Sikh-American has made history by becoming the first police officer from the community to join the police department in Indianapolis, the capital of the US state of Indiana, a media report has said
Mittan Katoch feels it is a 'great honour' to join Indianapolis Metropolitan Police Department (IMPD) as the first American-Sikh, the Indianapolis broadcaster RTV6 said.
इंडियानापोलिस पुलिस विभाग में शामिल हुआ पहला सिख-अमेरिकी अधिकारी
अमेरिका के इंडियाना प्रांत की राजधानी इंडियानापोलिस के पुलिस विभाग में 26 वर्षीय सिख-अमेरिकी शामिल हुआ है। यहां के पुलिस विभाग में शामिल होने वाला वह पहला सिख अमेरिकी है।
इंडियाना के टेलीविजन चैनल 'आरटीवी6' के अनुसार मिट्टन कटोच इंडियानापोलिस मेट्रोपोलिटन पुलिस विभाग :आईएमपीडी: के साथ पहले अमेरिकी-सिख के तौर पर जुड़कर 'बड़ा सम्मान' महसूस करते हैं।
You May Also Like:
Tendulkar Becomes Co-owner of Pro Kabaddi League Team
Former PIO Rammohan Rao passes away
Rammohan Rao, former Principal Information Officer (PIO) who had served as a media adviser to four prime ministers, passed away at the age of 83.
Hailing from Karnatakas South Canara district, Rao started his career with the Information Service in the 50s. Rao had served as media adviser to four former prime ministers - Rajiv Gandhi, V.P. Singh, Chandrashekhar and P.V. Narasimha Rao.
पूर्व पीआईओ राममोहन राव का निधन
चार पूर्व प्रधानमंत्रियों के मीडिया सलाहकार रहे पूर्व प्रधान सूचना अधिकारी (पीआईओ) आई राममोहन राव का 83 साल की उम्र में निधन हो गया ।
कर्नाटक के दक्षिण केनेरा जिले के रहने वाले राव ने 50 के दशक में सूचना सेवा से अपने करियर की शुरूआत की थी । उन्होंने राजीव गांधी, वीपी सिंह, चंद्रशेखर और पी वी नरसिंह राव के साथ काम किया था।