With NBCC on fast forward mode, its CMD honoured for Leadership Excellence
With public sector construction major National Buildings Construction Corporation (NBCC) making rapid strides in business volumes and diversification over the last four years to become 'Navratna', its Chairman and Managing Director Dr.A.K.Mittal has been conferred the 'SCOPE Leadership Excellence Award' in individual category.
President Shri Pranab Mukherjee presented the Award to Dr.Mittal for his leadership and contribution to the growth of NBCC.
प्रगति पथ पर अग्रसर एनबीसीसी के सीएमडी को नेतृत्व उत्कृष्टता सम्मान मिला
नवरत्न बनने कि दिशा में पिछले चार वर्षों से कारोबार वृद्धि और विस्तार करने वाली सार्वजनिक क्षेत्र की निर्माण कंपनी राष्ट्रीय भवन निर्माण निगम (एनबीसीसी) के अध्यक्ष और प्रबंध निदेशक को व्यक्तिगत श्रेणी में 'स्कोप नेतृत्व उत्कृष्टता' पुरस्कार दिया गया है।
राष्ट्रपति श्री प्रणब मुखर्जी ने को आयोजित एक समारोह में एनबीसीसी के विकास में नेतृत्व और योगदान के लिए डॉ. मित्तल को पुरस्कार प्रदान किया।
You May Also Like :
Micromax ropes in Anil Kapoor as brand ambassador
Indians become biggest migrant group in Victoria: Census
Indians have emerged as the fastest growing migrant group in the Australia's second-most populous state of Victoria, recording a growth of 2.3 per cent in the last ten years, according to latest census figures.
There were higher proportions of India-born residents in Victoria followed by Italy, Vietnam, Greece and Sri Lanka than any other state or territory, it said.
विक्टोरिया में सबसे बड़ा अप्रवासी समूह भारतीयों का : जनगणना
ऑस्ट्रेलिया के दूसरे सबसे ज्यादा आबादी वाले राज्य विक्टोरिया में भारतीय बीते दस वषरें में 2.3 की विकास दर के साथ सबसे तेजी से बढ़ते अप्रवासी समूह के तौर पर उभर कर सामने आए हैं।
हाल की जनगणना के आंकड़ों के मुताबिक किसी अन्य राज्य या इलाके के मुकाबले विक्टोरिया में भारत में जन्मे निवासियों की संख्या कहीं ज्यादा है जहां उनके बाद अधिक संख्या में हैं इटली, वियतनाम, यूनान और श्रीलंका में जन्मे लोग।
You May Also Like :
Sreejesh to lead India at Azlan Shah Meet, 4 rookies included
Bike-taxi service uberMOTO comes to Jaipur
Rajasthan Transport Minister Yunus Khan launched Uber's bike-sharing service uberMOTO in Jaipur by flagging off close to 200 motorcycles.
Khan said that the company had signed an MoU with the state government during 'Resurgent Rajasthan' summit in 2015 to provide job opportunities to 20,000 people and the new service has been launched as part of the pact.
उबर ने जयपुर में मोटरसाइकिल सुविधा आरंभ की
राजस्थान के परवहन मंत्री यूनुस खान ने जयपुर में उबर की मोटर साइकिल सुविधा आरंभ की।
खान ने इस मौके पर कहा कि रिसर्जेंट राजस्थान मेंं उबर के साथ 20000 युवाओं को रोजगार देने के लिए करार हुआ था। करार के तहत ही उबर ने जयपुर में यह सुविधा शुरू की है। प्रदेश में इससे करीब साढ़े बारह हजार से अधिक युवाओं को रोजगार मिलेगा।
You May Also Like :
Malala Yousafzai made UN Messenger of Peace
UJALA scheme to be launched in UP on Ambedkar Jayanti
Uttar Pradesh Chief Minister Yogi Adityanath and Union Power Minister Piyush Goel will launch Centre's 'Unnat Jeevan by Affordable LEDs and Appliances' (UJALA) scheme for the state on April 14.
Under the scheme, consumers can buy 9 Watt LED bulbs, BEE 5-star rated energy efficient fans and LED tube lights at nearly half the market prices. Bureau of energy efficiency (BEE) under Ministry of Power has designed a system of 5-star rating of the products.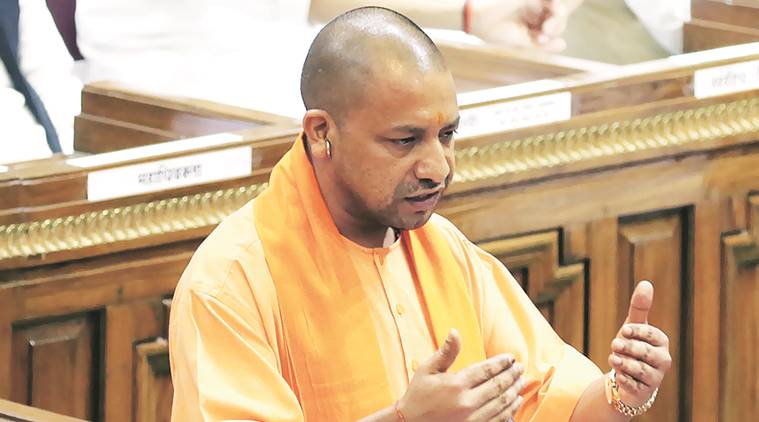 उत्तर प्रदेश में अम्बेडकर जयंती पर उजाला योजना शुरू की जाएगी
उत्तर प्रदेश के मुख्यमंत्री योगी आदित्यनाथ और केन्द्रीय उर्जा मंत्री पीयूष गोयल 14 अप्रैल को केन्द्र की 'उजाला' :उन्नत जीवन बाई अफोर्डेबिल एलईडी एंड एप्लायंसेज: योजना की शुरूआत करेंगे।
योजना के तहत नौ वाट के एलईडी बल्ब, बीईई फाइव स्टार रेटेड एवं उर्जा खपत वाले पंखे और एलईडी टयूबलाइट बाजार से आधी कीमत पर खरीदे जा सकेंगे।
You May Also Like :
Neil Gorsuch sworn in as US Supreme Court justice