Dear Readers,
As SSC CGL| CHSL| STENO | CPO notification is out and candidates have started their preparation for this exam. Mahendras also has started special quizzes for this examination. This series of quizzes are based on the latest pattern of the SSC CGL| CHSL| STENO | CPO examination. Regular practice of the questions included in the quizzes will boost up your preparations and it will be very helpful in scoring good marks in the examination.
Q-1
A certain sum is invested on compound interest (compounded annually) amounts to Rs.5040 in three years. If the rate of interest is 20% for the first year, 40% for the second year and 50% for the third year, then what is the value of the sum?
एक निश्चित राशि जिसे चक्रवृद्धि ब्याज (सालाना चक्रवृद्धि) पर निवेश किया जाता है, तीन वर्षों में रू. 5040 हो जाती है। यदि ब्याज की दर पहले वर्ष के लिए 20%, दूसरे वर्ष के लिए 40% और तीसरे वर्ष के लिए 50% है, तो धनराशि का मान क्या है?
Q-2
Samrat alone can complete the work in 10 days and Virat alone can complete the same work in 40 days. If they are working on alternate days with Samrat starting the work, then in how many days will the total work be completed?
अकेले सम्राट 10 दिनों में काम पूरा कर सकता है और विराट अकेले उसी काम को 40 दिनों में पूरा कर सकता है। यदि वे सम्राट से काम शुरू करने के साथ वैकल्पिक दिनों पर काम कर रहे हैं, तो कुल काम कितने दिनों में पूरा होगा?
Q-3
A sum of Rs.1500 is invested for x months. If the rate of interest is

per annum, then the sum amounts to Rs.1590. What is the value of x?
x महीने के लिए रू. 1500 की राशि का निवेश किया जाता है। यदि प्रति वर्ष ब्याज की दर

हो तो धनराशि बढ़कर रू.1590 हो जाती है । x का मान क्या है?
Q-4
Let

. What is the unit digit of x?
माना
. x का इकाई का अंक ज्ञात कीजिये ?
Q-5
In ΔABC , D and E are the points on sides AB and BC respectively such that DE || AC. If AD : DB = 5 : 3, then ratio of the area of ΔBDE to that of trapezium ACED?
ΔABC में, D और E क्रमशः भुजा AB और BC पर ऐसे हैं कि DE || AC यदि AD : DB = 5: 3 है, तो ΔBDE और समलम्ब ACED के क्षेत्रफल का अनुपात क्या है ?
Q-6
In a trapezium ABCD, DC || AB, AB = 12 cm and DC = 7.2 cm. What is the length of the segment joining the mid points of the diagonals?
समलम्ब ABCD में, DC || AB, AB = 12 सेमी और DC = 7.2 सेमी है । विकर्णों के मध्य बिंदुओं को मिलाने वाले रेखा खंड की लंबाई क्या है?
Q-7
The cost of two articles is same. One article among them is sold at a profit of 15% and the other is sold at the profit of 12%. If the difference between their selling prices is Rs.18, What is the cost of each article?
दो वस्तुओं की लागत समान है । उनमें से एक वस्तु 15% के लाभ पर और दूसरी को 12% के लाभ पर बेचा जाता है। यदि उनकी बिक्री कीमतों में अंतर 18 रु. है, तो प्रत्येक वस्तु की लागत क्या है?
Q-8
The internal and external radii of a hollow hemispherical vessel are 6 cm and 7 cm respectively. What is the total surface area ( in cm
2
) of the vessel?
एक खोखले गोलार्द्ध के बर्तन की आंतरिक और बाहरी त्रिज्या क्रमशः 6 सेमी और 7 सेमी है । बर्तन का कुल पृष्ठ क्षेत्रफल (सेमी
2
में) क्या है?
Q-9
The lateral surface area of a cylinder is 352 cm
2
. If its height is 7 cm, Then its volume (in cm3) is?
एक बेलन का पार्श्व सतह क्षेत्रफल 352 सेमी
2
है। यदि इसकी ऊंचाई 7 सेमी है, तो इसका आयतन (सेमी 3 में) है?
Q-10
A boat covers 64 km upstream in 8 hours and 120 km downstream in 12 hours. What is the speed ( in m/s) of the boat in still water ?
एक नाव 8 घंटे में 64 किमी ऊर्ध्वप्रवाह दूरी और 12 घंटे में 120 किमी अनुप्रवाह दूरी को तय करती है । स्थिर जल में नाव की गति (मीटर / सेकेंड में) क्या है?
Answer:-
Q-1(4)
Let the sum = 100
20
40 8
50 10 20 4
252 %→5040
100% →2000
माना राशि = 100
20
40 8
50 10 20 4
252 %→5040

100% →2000
Q-2(2)
Samrat 10 4
40
Virat 40 1

= 16 days
सम्राट
10 4
40

विराट
40 1
Q-3(4)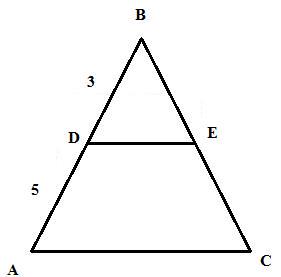 Length of the segment joining the mid points of the diagonals
= difference of the parallel side /2
= 4.8/2 = 2.4
विकर्णों के मध्य बिंदुओं को मिलाने वाले रेखा खंड की लंबाई
= समान्तर भुजाओ की लम्बाई का अंतर /2
= 4.8/2 = 2.4
Q-7(4)
3%→18
1%→6
100%→600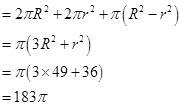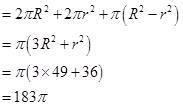 Q-9(4)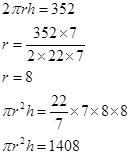 Upstream Speed = 8 km/h
downstream Speed = 10 km/h
Speed of boat = 9 km/h
Speed of boat =

m/s
ऊर्धप्रवाह चाल = 8 किमी /घंटा
अनुप्रवाह चाल = 10 किमी /घंटा
नाव की चाल = 9 किमी /घंटा
नाव की चाल=

मीटर / सेकंड