Dear Readers,
As SSC MTS | CHSL notification is out and candidates have started their preparation for this exam. Mahendras also has started special quizzes for this examination. This series of quizzes are based on the latest pattern of the SSC MTS | CHSL examination. Regular practice of the questions included in the quizzes will boost up your preparations and it will be very helpful in scoring good marks in the examination.
Q-1 By selling an article at 20 % profit the profit is four times of discount then marked price is what percent of cost price?
एक वस्तु को 20% लाभ में बेचने पर हुआ लाभ छूट का चार गुना है। तो अंकित मूल्य, क्रय मूल्य का कितना प्रतिशत है?
Q-2 The average of five numbers is 371.8. The average of first and second number is 256.5 and the average of the fourth and fifth number is 508. Which of the following is the third number?
पांच संख्याओं का औसत 371.8 है। पहली और दूसरी संख्या का औसत 256.5 है और चौथी व पाँचवी संख्या का औसत 508 है। निम्न में से तीसरी संख्या कौन सी है?
Q-3 The sum of three numbers is 91. The second number is

more than the first and the third is 60% more than the sum of the first and the second. Then the least number is
तीन संख्याओं का योग 91 है । दूसरी संख्या पहली संख्या से

अधिक है और तीसरी पहली और दूसरी के योग से 60% अधिक है । तो सबसे छोटी संख्या है?
Q-4 A shopkeeper allows two successive discounts on an article whose marked price is Rs. 150 and selling price is Rs. 105. What is first discount if second discount is 12.5%?
एक दुकानदार किसी वस्तु पर दो क्रमिक छूट देता है। जिसका अंकित मूल्य 150 रूपये है। और विक्रय मूल्य 105 रूपये हैं यदि दूसरी छूट 12.5% हो तो पहली छूट क्या है?
Q-5 The fourth proportional to 7, 11, 14 is
7, 11, 14 का चौथा समानुपातिक क्या है?
Q-6 Find the value of 2 (sin6 θ + cos6 θ) – 3 (sin4 θ+ cos4 θ)..
2 (sin
6
θ + cos
6
θ) – 3 (sin
4
θ+ cos
4
θ).
का मान ज्ञात कीजिये ।
Q-7 If the difference of compound interest and simple interest at 12.5% on certain sum of money for third year is Rs. 765. Find the sum of money.
यदि किसी निश्चित धन पर 12.5% की दर से तीसरे वर्ष के चक्रवृद्धि ब्याज और साधारण ब्याज का अंतर 765 रूपये है, तो मूलधन ज्ञात कीजिये।
Q-8 From a solid cylinder of height 4 cm. and radius 3 cm, a conical cavity of height 4 cm. and of base radius 3 cm. is hollowed out. What is the total surface area of the remaining solid?
4 सेमी. ऊँचाई और 3 सेमी. त्रिज्या के एक ठोस बेलन से 4 सेमी. ऊँचाई और आधार त्रिज्या 3 सेमी. की एक शांकव गुहिका खोद निकाली जाती है। बचे हुए ठोस का कुल पृष्ठ क्षेत्रफल क्या है?
Q-9 In an examination, the number of those who passed and the number of those who failed were in the ratio 25: 4. If five more had appeared and the number of failures was 2 less than earlier, the ratio of passers to failures would have been 22: 3. The total number who appeared at the examination is
एक परीक्षा में, उत्तीर्ण छात्रों की संख्या का अनुत्तीर्ण छात्रों की संख्या से अनुपात 25: 4 है। यदि पांच और परीक्षा में सम्मिलित होते और अनुत्तीर्ण होने वाले छात्रों की संख्या पहले से दो कम होती, उत्तीर्ण छात्रों की संख्या का अनुत्तीर्ण छात्रों की संख्या से अनुपात 22: 3 हो जाएगा। परीक्षा में सम्मिलित होने वाले कुल छात्रों की संख्या है
यदि a + b + c =

और
a2 + b2 + c2 = 16
, तो ab + bc + ca का मान है –
ANSWER KEY ----
Q-1(A)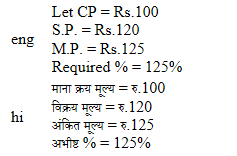 Q-2 (C)

Q-3 (D)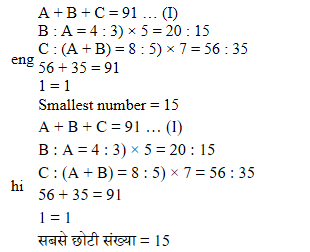 Q-4(A)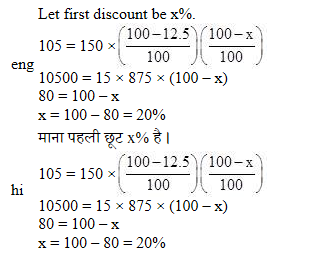 Q-5 (B)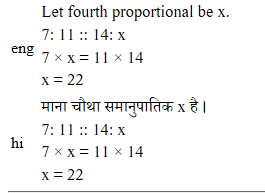 Q-6 (A)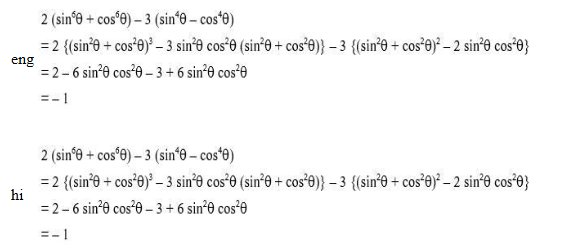 Q-7 (C)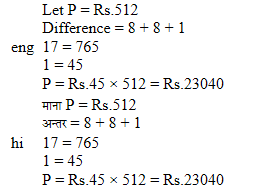 Q-8(A)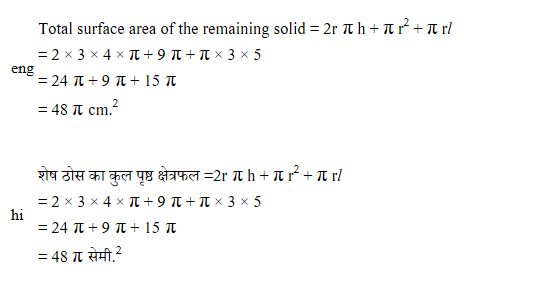 Q-9 (C)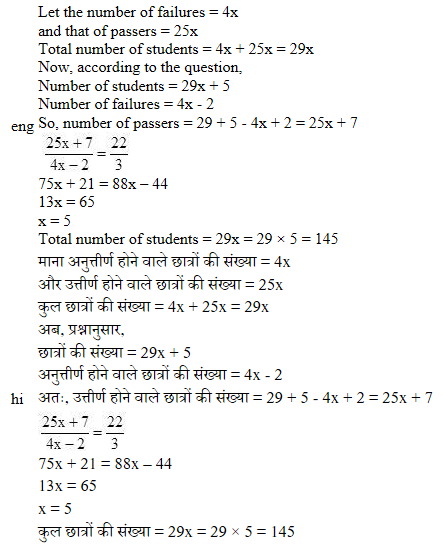 Q-10(D)