श्री मनोज सिन्हा ने 'क्यूब स्काउट्स' पर डाक टिकट जारी की
केन्द्रीय संचार राज्य मंत्री (स्वतंत्र प्रभार) श्री मनोज सिन्हा ने भारत एवं विदेश में क्यूब स्काउट्स के 100 वर्ष पूरे होने के उपलक्ष्य में 'क्यूब स्काउट्स' पर एक डाक टिकट जारी की।
क्यूब स्काउटिंग 08 से 11 वर्ष की आयु वर्ग के बच्चों के लिए है। क्यूबिंग में खेल, गेम, कहानियां, नाटक, अभिनय, हस्तशिल्प और स्टार परीक्षण एवं बैज के माध्यम से कार्य करना शामिल है।
Postage Stamp on 'Cub Scouts' released by Sh Manoj Sinha
Minister of Communications Shri Manoj Sinha released a Postal Stamp on Cub Scouts to commemorate Centenary year of Cub Scouts in India and Abroad.
Cub Scouting is meant for children of age group between 8 to 11 years and Cubbing involves games, stories, play acting, handicrafts and also work through the Star tests and Badges.
You May Also Like :
Dr Arvind Lal elected as President of NATHEALTH
केलटोन टेक ने अमेरिकी कंपनी लेनमार ग्रुप का अधिग्रहण किया
हैदराबाद की केलटोन टेक ने अमेरिका की आईटी सेवा एवं सेवा प्रदाता कंपनी लेनमार ग्रुप आफ कंपनीज का अधिग्रहण किया है।
केलटोन टेक से जुड़े सूत्रों के अनुसार लेनमार ग्रुप की सालाना आय करीब 1.1 करोड़ डालर है।
Kellton Tech acquires US-based Lenmar Group
Hyderabad-headquartered Kellton Tech announced the acquisition of US-based Lenmar Group of Companies, a global IT services and solutions group with a presence in banking and financial services space, for an undisclosed sum.
Kellton Tech sources said Lenmar Group had annual revenues of about $11 million.
You May Also Like :
India becomes net exporter of Electricity for 1st time
राहुल कैरियर की सर्वश्रेष्ठ 11वीं रैंकिंग पर
आस्ट्रेलिया के खिलाफ धर्मशाला में चौथे और निर्णायक क्रिकेट टेस्ट में दो अर्धशतक जमाने वाले भारतीय सलामी बल्लेबाज लोकेश राहुल ताजा आईसीसी टेस्ट बल्लेबाजों की रैंकिंग में 11वें स्थान पर पहुंच गए जो उनके कैरियर की सर्वश्रेष्ठ रैंकिंग है ।
कर्नाटक के इस 24 वर्षीय बल्लेबाज की रैंकिंग श्रृंखला से पहले 57वीं थी लेकिन चार टेस्ट मैचों में 64, 10, 90, 51, 67, 60 और नाबाद 51 के स्कोर के बाद उन्होंने 46 पायदान की छलांग लगाई ।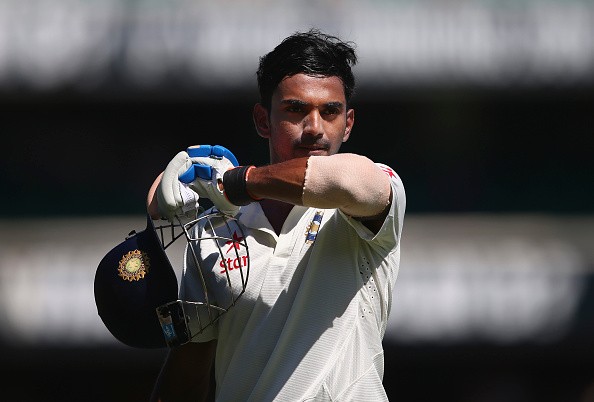 Consistent Rahul zooms to career best rank of 11th
India opener Lokesh Rahul, who hit two half-centuries in the deciding Dharamsala Test against Australia, jumped 11 places to a career-high rank of 11th in the latest ICC chart for Test batsmen.
The 24-year-old Karnataka batsman had started the series in the 57th position and has gained 46 places over four Tests following scores of 64, 10, 90, 51, 67, 60 and 51 not out.
You May Also Like :
NASA assigns five astronauts to future missions aboard the IS
व्हाइट हाउस में अवैतनिक सलाहकार का नया पद ग्रहण करेंगी इवांका ट्रंप
व्हाइट हाउस ने घोषणा की है कि अमेरिका के राष्ट्रपति डोनाल्ड ट्रंप की पुत्री इवांका ट्रंप अपने पिता के अवैतनिक सलाहकार के तौर पर एक और पदभार संभालेंगी।
इवांका संघीय कर्मी के तौर पर अपने काम के लिए वेतन नहीं लेंगी। उनके पति जारेद कुशनेर राष्ट्रपति के वरिष्ठ सहयोगी के तौर पर काम करते हैं। वह एक रियल एस्टेट कारोबारी हैं और वह भी अपनी सेवाओं के लिए वेतन नहीं लेते हैं।
Ivanka Trump takes unpaid job as White House adviser
First daughter Ivanka Trump is about to take on another title as an unpaid adviser to her father President Donald Trump, the White House has announced.
Ivanka, whose husband Jared Kushner also works as a senior aide to the president, will not receive a salary for her work as a federal employee. Kushner, a real estate developer, is also unpaid.
You May Also Like :
Indian-American enters governor's race in New Jersey