AP: Naidu lays foundation stone for Rs 100-cr Ambedkar park
Andhra Pradesh Chief Minister N Chandrababu Naidu laid the foundation-stone for the Rs 100 crore Dr B R Ambedkar Smriti Vanam (memorial park) at Inavolu village, marking the 125th birth anniversary of the architect of Indian Constitution.
He also laid the foundation-stone for a 126-ft statue of Ambedkar that will come up in the park, spread over a 20-acre site.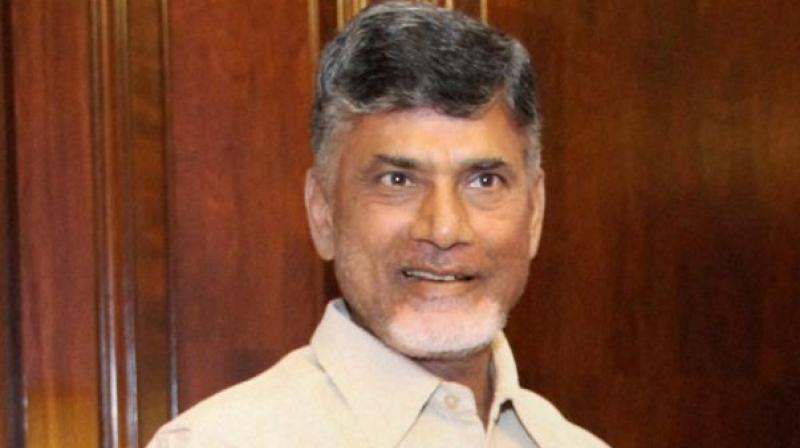 आंध्र प्रदेश : नायडू ने 100 करोड़ रूपये की लागत से बनने वाले अंबेडकर पार्क की आधारशिला रखी
आंध्र प्रदेश के मुख्यमंत्री एन चंद्रबाबू नायडू ने इनवोलू गांव में 100 करोड़ रूपये की लागत से बनने वाले डॉक्टर बी आर अंबेडकर स्मृति वनम :स्मारक पार्क: की आधारशिला रखी। भारत के संविधान निर्माता की 125 वीं जयंती के अवसर पर यह किया गया।
उन्होंने पार्क में अंबेडकर की 126 फुट प्रतिमा की भी आधारशिला रखी। यह पार्क 20 एकड़ क्षेत्र में फैला हुआ है।
You May Also Like :
'Yoga' among top 15 popular words in UK: study
Prime Minister launches BHIM Aadhaar platform to enable digital payments via biometric data
Prime Minister Narendra Modi has launched the BHIM-Aadhaar service, at the main function organized by the Niti Ayog at Mankapur Indoor Stadium in Nagpur on the occassion of Ambedkar Jayanti.
BHIM Aadhar, the merchant interface of the BHIM app would pave way for making digital payments by using the Aadhaar platform.
.
प्रधानमंत्री ने बायोमीट्रिक डाटा के जरिये डिजीटल भुगतान को सुगम बनाने के लिए भीम आधार प्‍लेटफॉर्म की शुरूआत की
प्रधानमंत्री नरेन्‍द्र मोदी ने आम्‍बेडकर जयंती के अवसर पर नीति आयोग की ओर से नागपुर के मनकापुर इंडोर स्‍टेडियम में आयोजित मुख्‍य समारोह में भीम-आधार सेवा का शुभारंभ किया।
यह भीम-ऐप का ही व्‍यवसायिक रूप है और इससे आधार नम्‍बर के जरिये डिजिटल भुगतान की सुविधा उपलब्‍ध हो जाएगी।
You May Also Like :
Prez gives nod to four supporting legislations on GST
Congress launches website on Ambedkar
The Congress launched "Quest for Equity" website on the occasion of Dr B.R. Ambedkar on his 126th birth anniversary. The website contains pictures of his achievements and a copy of the original Constitution of India.
The website www.questforequity.org contains over 300 archival pictures of Ambedkar, 97 scans of his correspondence and the full transcripts of the Constituent Assembly debates.
कांग्रेस ने अंबेडकर पर वेबसाइट लॉन्च की
कांग्रेस ने को डॉ. बी. आर. अंबेडकर की 126वीं जयंती के मौके पर वेबसाइट 'क्वेस्ट फॉर इक्विटी' लॉन्च की। वेबसाइट में अंबेडकर की उपलब्धियों की तस्वीरें और भारत के मूल संविधान की एक प्रति शामिल है।
वेबसाइट 'डब्ल्यूडब्ल्यूडब्ल्यू डॉट क्वे स्टफॉरइक्वि टी डॉट ऑर्ग' में अंबेडकर की 300 से भी अधिक तस्वीरें, उनके पत्राचार के 97 स्कैन और संविधान सभा की बहस के पूरे टेप उपलब्ध हैं।
You May Also Like :
President confers Padma awards on a host of prominent personalities, including singer Yesudas and sadguru Jaggi Vasudev
India-born engineer gets American Helicopter Society award
An India-born aeronautics engineer from Australia has been honoured with the 'World's Outstanding Aerospace Engineer Leadership Award' by the American Helicopter Society (AHS) International.
AHS is the world's premier professional institution dedicated to vertical flight technology and advancement. It selected Lt. Col. (retd) Dr Arvind Sinha for his distinguished career in vertical flight technology.
भारतीय मूल के इंजीनियर को मिला अमेरिकन हेलीकॉप्टर सोसाइटी पुरस्कार
भारतीय मूल के आस्ट्रेलियाई एयरोनॉटिक्स इंजीनियर को अमेरिकन हेलीकॉप्टर सोसाइटी :एएचएस: इंटरनेशनल की ओर से 'विश्व के सर्वश्रेष्ठ एयरोस्पेस इंजीनियर लीडरशिप अवार्ड' से सम्मानित किया गया है।
एएचएस वर्टिकल फ्लाइट टक्नोलॉजी :लम्बवत उड़ान तकनीक एंव आधुनिकीकरण: को समर्पित विश्व का एक प्रमुख पेशेवर संस्थान है। इस संस्थान ने लेफ्टीनेंट कर्नल :सेवानिवृत्त: डा अरविंद सिन्हा को वर्टिकल फ्लाइट टक्नोलॉजी के क्षेत्र में उनके शानदार करियर के लिए सम्मानित किया है।
You May Also Like :
Infosys names Ravi Venkatesan as co-Chairman