दिवाकर औन मदन भी पेशेवर मुक्केबाज बने
ओलंपियन दिवाकर प्रसाद और पूर्व राष्ट्रीय चैम्पियन मदन लाल पेशेवर मुक्केबाजी से जुड़े गए। इन दोनों ने उन्हीं प्रमोटर के साथ करार किया है जो विजेंदर सिंह और अखिल कुमार जैसे मुक्केबाजों का प्रबंधन कर रहे हैं।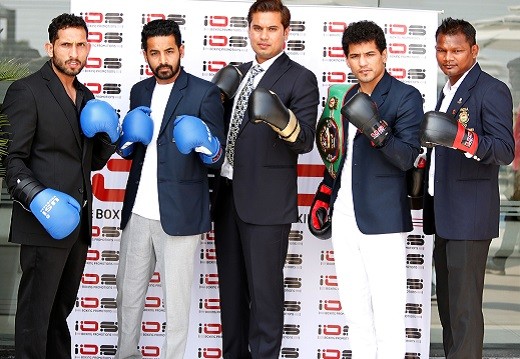 Boxers Diwakar, Madan turn professional
Olympian Diwakar Prasad and former national champion Madan Lal became the latest to join the professional bandwagon in boxing, signing up with the promoters who are managing the likes of Vijender Singh and Akhil Kumar.
You May Also Like :

Iran launches 'advanced' rockets during military exercises
भारत ने लंदन फैशन वीक में 'बेस्ट कंट्री अवार्ड' जीता
भारतीय फैशन और डिजाइन उद्योग के लिए यह एक और बड़ी उपलब्धि रही, जब भारत को लंदन फैशन वीक के दौरान अंतर्राष्ट्रीय फैशन शोकेस (आईएफएस) में आईएमजी रिलायंस द्वारा प्रस्तुत प्रदर्शनी के लिए 'बेस्ट कंट्री अवार्ड' का विजेता घोषित किया गया।
India wins 'Best Country Award' at London Fashion Week
It was yet another benchmark for Indian fashion and design industry when India was declared the winner of "Best Country Award" for exhibit curated by IMG Reliance at the International Fashion Showcase (IFS) during London Fashion Week.
You May Also Like :

Tata Steel's Katamati Mine wins Best Green Award
आईपीएल-10 के लोगो का अनावरण
इंडियन प्रीमियर लीग (आईपीएल) के 10वें संस्करण के लोगो का अनावरण किया गया
।
लोगो
दुनिया में चर्चित हो चुके इस ट्वंटी 20 क्रिकेट टूर्नामैंट के 10 वर्षों के सुनहरे सफर की झलक दिखाता है।
IPL-10 logo unveiled
The logo for the 10th edition of the Indian Premier League (IPL) was unveiled .
The logo beautifully captures 10 golden years of the tournament with the iconic pose of a batsman playing a shot alongside the logos of Vivo and IPL.
You May Also Like :

N Chandrasekaran To Take Over Tata Group Reins