India appoints envoys to Italy, Denmark, Belgium and EU
The government appointed ambassadors to three European countries, Italy, Denmark and Belgium. Gaitri Issar Kumar, a 1986-batch Indian Foreign Service (IFS) officer, has been appointed as India's next ambassador to Belgium.
While Reenat Sandhu, a 1989-batch IFS officer, will head India's diplomatic mission in Italy, Ajit Vinayak Gupte from the 1991 batch, who is presently joint secretary in the ministry, has been appointed as ambassador to Denmark.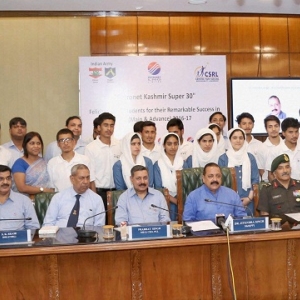 भारत ने इटली, डेनमार्क, बेल्जियम एवं ईयू में राजदूत नियुक्त किये
सरकार ने तीन यूरोपीय देशों इटली, डेनमार्क एवं बेल्जियम के लिए राजदूत नियुक्त किये। गायत्री इस्सर कुमार को बेल्जियम में भारत का राजदूत नियुक्त किया गया है जो भारतीय विदेश सेवा की 1986 बैच की अधिकारी हैं।
भारतीय विदेश सेवा की 1989 बैच की अधिकारी रीनत संधू इटली में भारतीय राजनयिक मिशन का नेतृत्व करेंगी। वर्तमान में विदेश मंत्रालय में संयुक्त सचिव और 1991 बैच के आईएफएस अधिकारी विनयाक गुप्ते को डेनमार्क में भारतीय राजदूत नियुक्त किया गया है।
You May Also Like:
Four-time DMK MLA Perur Natarajan passes away
WPI inflation in May cools to 5-month low of 2.17%
Inflation based on the wholesale price index fell to a five-month low of 2.17 per cent in May, mainly because of a sharp drop in prices of vegetables.
In December, the reading was 2.10 per cent. WPI inflation was 3.85 per cent in April and (-)0.9 per cent in May 2016.
थोक मुद्रास्फीति मई में घटकर पांच माह के निम्नस्तर 2.17 प्रतिशत पर पहुंची
थोक मूल्य सूचकांक पर आधारित मुद्रास्फीति मई में घटकर पिछले पांच माह के निचले स्तर 2.17 प्रतिशत पर आ गई। मुख्यतौर पर सब्जियों के दाम घटने से मुद्रास्फीति में यह गिरावट आई है।
इससे पहले दिसंबर में थोक मुद्रास्फीति 2.10 प्रतिशत रही थी। एक माह पहले अप्रैल में यह 3.85 प्रतिशत पर और मई 2016 में यह शून्य से नीचे 0.9 प्रतिशत पर रही थी।
You May Also Like:
SRK, Salman, Akshay part of Forbes highest-earning