Film director Dasari Narayana Rao dead
Well-known Telugu film director and former Union Minister of State for Coal Dasari Narayana Rao died. He was 75.
Some of his famous films include "Premabhishekam", "Megha Sandesham", "Osey Ramulamma" and "Tata Manavadu".
Rao had planned to make a biopic on late Tamil Nadu Chief Minister J. Jayalalithaa.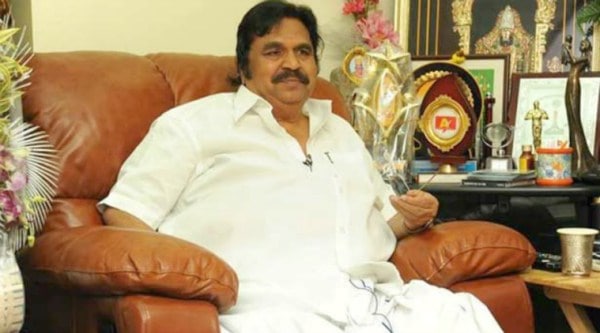 नहीं रहे फिल्मकार दसारी नारायण राव
तेलुगू फिल्म-उद्योग के मशहूर फिल्म निर्देशक एवं पूर्व केंद्रीय मंत्री दसारी नारायण राव का निधन हो गया। वह 75 वर्ष के थे।
राव की कुछ बेहद सफल फिल्मों में 'प्रेमाभिषेकम', 'मेघा संदेशम', 'ओसी रामुलम्मा' और 'टाटा मनवाडू' शामिल हैं।
राव तमिलनाडु की दिवंगत मुख्यमंत्री जे. जयललिता के जीवन पर फिल्म बनाने की योजना बना रहे थे।
You May Also Like:
Defence Minister's Scientific Adviser Satheesh Reddy's Tenure Extended
US Successfully Tests Intercontinental Ballistic Missile Defence System
The US military said it had intercepted a mock-up of an intercontinental ballistic missile in a first-of-its-kind test that comes amid concerns over North Korea's weapons program.
A ground-based interceptor launched from Vandenberg Air Force Base in California "successfully intercepted an intercontinental ballistic missile target" fired from the Reagan Test Site in the Marshall Islands.
अमेरिका ने किया बैलिस्टिक मिसाइल को भेदने वाली रक्षा प्रणाली का सफल परीक्षण
अमेरिका ने लंबी दूरी के उन्नत इंटरसेप्टर का इस्तेमाल कर अंतर्महाद्वीपीय बैलिस्टिक मिसाइल को सफलतापूर्वक भेद दिया जो अपनी तरह का पहला परीक्षण है और इसे उत्तर कोरिया से बढ़ते खतरे से निपटने की अमेरिका की क्षमता के तौर पर देखा जा रहा है।
अमेरिकी सेना ने मार्शल द्वीप में ख्वाजालेन एटॉल से अंतर्महाद्वीपीय बैलिस्टिक मिसाइल जैसा हथियार छोड़ा, जिसे कैलिफोर्निया में वेन्देंबर्ग वायु सेना अड्डे से लॉन्च किए गए इंटरसेप्टर ने मार गिराया।