MoU signed for Assam's Numaligarh Refinery expansion
A memorandum of understanding was signed for the capacity expansion of the Numaligarh Refinery in Assam.
The MoU was signed among Paradip Port Trust, Indian Oil Corporation Limited and Numaligarh Refinery Limited in the presence of Union minister Nitin Gadkari, Union Minister of State Dharmendra Pradhan, Assam finance minister H B Sarma and Assam commerce and industry minister C M Patowary.
नुमालीगढ़ रिफाइनरी की क्षमता बढ़ाने के लिये सहमति पत्र पर हस्ताक्षर
असम में नुमालीगढ़ रिफाइनरी की क्षमता विस्तार के लिये एक सहमति पत्र पर हस्ताक्षर किये गये।
सहमति पत्र :एमओयू: पर पारादीप पोर्ट ट्रस्ट, इंडियन ऑयल कारपोरेशन लि. और नुमालीगढ़ रिफाइनरी लि. ने केंद्रीय सड़क परिवहन, राजमार्ग एवं पोत परिवहन मंत्री नितिन गडकरी, केंद्रीय पेट्रोलियम एवं प्राकृति गैस राज्यमंत्री धर्मेन्द्र प्रधान, असम के वित्त मंत्री एस बी शर्मा तथा वाणिज्य एवं उद्योग मंत्री सीएम पोटोवारी की मौजूदगी में हस्ताक्षर किये।
You May Also Like :
Prime Minister launches BHIM Aadhaar platform to enable digital payments via biometric data
World's oldest person dies aged 117
The world's oldest person - believed to be the last known living individual to be born in the 19th century - has passed away at the age of 117
Born on 29 November 1899, Emma Martina Luigia Morano from Italy held the Guinness World Records titles for Oldest living person and Oldest living woman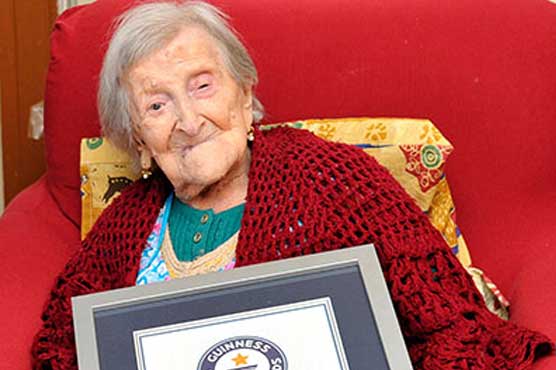 दुनिया की सबसे वृद्ध महिला की 117 वर्ष की उम्र में मौत
दुनिया की सबसे बुजुर्ग महिला की 117 वर्ष की उम्र में मौत हो गई। उन्हें 19वीं सदी का अंतिम जीवित व्यक्ति माना जाता था।
इटली की एम्मा मार्टिना लुगिया मोरानो का जन्म 29 नवम्बर 1899 को हुआ था और उन्हें गिनीज वर्ल्ड रिकॉर्ड में सबसे बुजुर्ग जीवित महिला का दर्जा मिला हुआ था।
Finance Ministry okays 8.65 percent interest on Employees Provident Fund
The Finance Ministry have permitted the Labour Ministry to go ahead with 8.65 per cent rate of interest on employees' provident fund for 2016-17, which will benefit over four crore EPFO members.
The Finance Ministry in its communication to the Labour Ministry has, however, put a rider that the interest rate should not result in a deficit for the retirement fund.
वित्त मंत्रालय ने भविष्य निधि जमा पर 8.65 प्रतिशत ब्याज को मंजूरी दी
वित्त मंत्रालय ने श्रम मंत्रालय को कर्मचारी भविष्य निधि कोष पर 2016-17 के लिए 8.65 प्रतिशत ब्याज दर को मंजूरी दे दी है। इससे कर्मचारी भविष्य निधि संगठन :ईपीएफओ: के चार करोड़ से अधिक अंशधारकों को फायदा होगा।
वित्त मंत्रालय ने श्रम मंत्रालय को भेजी सूचना में हालांकि, यह शर्त लगाई है कि इस ब्याज दर से सेवानिवृत्ति कोष को घाटा नहीं होना चाहिए।